Gleðilegt nýtt ár og kærar þakkir til allra sem heimsóttu vinnustofuna á árinu sem var að líða.
Þrátt fyrir að vinnustofan verði meira og minna lokuð næstu mánuði þá er ekki setið auðum höndum. Næsta sumar verða þar fuglar en þá mun ég líklegast setja upp litla sýningu á þeim tegundum sem ég hef verið að gera ásamt einhverjum nýjum og ekki er ólíklegt að einhverjar þjóðsögur sem tengjast þeim fái að fljóta með.
Hnallþóruverkefnið mitt klárast vonandi fyrir páska en hægt er að fylgjast með framvindu þess á facebókar og  Instragramsíðu vinnustofunnar.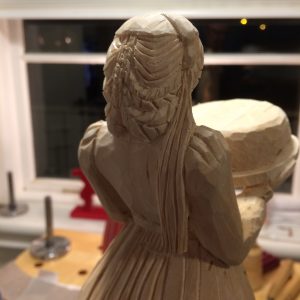 Happy New Year and thanks to all who visited my workshop last year.
Although the workshop is more or less closed over the next months I won't be idle. Next summer there will be a small exhibition of birds I have been making and also some new ones, there might even be some folklore stories relating to birds.
Another project I have been working on (Hnallþóra – a big heavily decorated cake) will hopefully be finished before Easter but can be followed on the workshops Facebook and Instagram page.
0
0
bibi
http://bibi.is/wp-content/uploads/2021/09/logo3-01-2-300x68.png
bibi
2017-01-02 15:03:00
2017-01-02 15:03:00
Nýtt ár og ný verkefni – new year and new projects