Árið 2015 að baki og 2016 framundan, jólagreinarnar í Vinnustofu Tang & Riis farnar að laufgast og lóan mætt á svæðið 🙂

Tvær sýningar voru hjá mér á vinnustofunni í ár, annarsvegar sýning mín EYJA sl. sumar og í desember sl. sýndi nafna mín Ingibjörg Hildur Benediktsdóttir vefnað sem hún hefur unnið frá árinu 2010.
Ég vil nota tækifærið og þakka öllum þeim sem heimsóttu vinnustofuna á árinu sem var að líða og vona að þið lítið við á þessu nýja ári 2016. Framundan er vinna við nýja sýningu helgaða þjóðsögum, sem áætluð er í sumar hér á vinnustofunni í Tang & Riis húsinu í Stykkishólmi.
Opnunartímar vinnustofunnar næstu mánuði eru ekki fastir þar sem ekki er nein sýning í gangi en að sjálfsögðu er opið þegar ég er að vinna þar og eftir samkomulagi.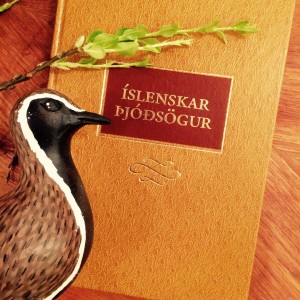 The Year 2015 is over and 2016 ahead, spring is already in the air as the Christmas decorations started to sprout leaves and even flowers.
Two exhibitions were in my workshop this year, first the exhibition EYJA (my works based on names of some of the many islands and reefs in Breidafjordur ) last summer, and this December Ingibjorg Hildur Benediktsdóttir (whose name is a lot like my own :-)) exhibited textiles woven by her since 2010.
I would like to thank all those who visited me and us at the workshop this year and hope you'll drop by in the New Year. Already work has begun on new artworks for an exhibition this coming summer where the theme is Icelandic folktales and myths.
For the next few months there are not fixed opening hours for the workshops so it is open when I am working there and of cause by an appointment.
0
0
bibi
http://bibi.is/wp-content/uploads/2021/09/logo3-01-2-300x68.png
bibi
2016-01-05 10:48:13
2016-01-05 10:48:13
Nýtt ár ! New Year !