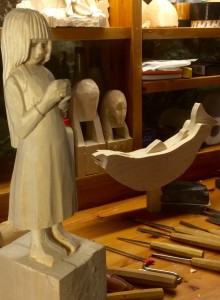 Laugardagurinn 16.júlí hefur orðið fyrir valinu sem opnunardagur sýningar minnar á vinnustofunni í sumar. Innblástur verkanna sem verða á sýningunni er eins og oft áður, þjóðsögur sumar þekkar og aðrar óþekktar.
Hægt er að fylgjast með verkunum í vinnslu á Facebook síðu vinnustofunnar.
Sýningin mun standa út ágúst mánuð og ég sendi út tilkynningu um sýningaropnun þegar nær dregur.
Opnunartími vinnustofunnar fram að sýningaropnun er eins og áður, þegar ég er að vinna þar eða eftir samkomulagi.
16th. of July has been decided as the opening of my summer exhibition. As so often before Icelandic folklore stories are the inspiration for my works.
The exhibition will be in my workshop and lasts out August, I will send out notifications on Facebook when the day draws near, as well as opening hours.