Nú fer að styttast í fyrstu opnun Vinnustofunnar 2017 en um Páskana opnar þar Hnallþórusýning. Viðeigandi viðbót í allar fermingarveislurnar á þessum tíma.
Sýningin opnar fimmtudaginn 13. apríl sem er Skírdagur og stendur til 23, apríl eða aðeins í 10 daga. Opnunartímarnir verða settir inn á heimasíðuna viku fyrir opnun.
Í bók Halldórs Laxness er sögupersóna sem kölluð var Frk. Hnallþóra þar sem hún þótti "handfjatla hnallinn í mortélinu nokkuð frekt". Kökurnar sem hún bakaði og bar fram voru víst svakalegar.
Ég ákvað að skera út 8 Hnallþórur til heiðurs íslenskum konum sem hafa öldum saman handfjatlað hnallinn í mortélinu til að útbúa dýrindis krásir, að bjóða upp á fyrir gesti og gangandi en ávalt staðið til baka og sögðu aðeins (og margar gera enn) "fyrirgefið lítilræðið"
Hnallþórur á öllum íslensku búningunum en þeir eru 8 talsins.
Hver verður þín uppáhalds Hnallþóra ?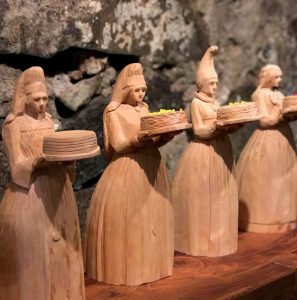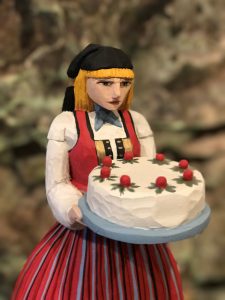 Over Easter there is going to be a small exhibition in my workshop dedicated to certain type of cakes very popular in most Icelandic feasts. They are called Hnallþórur after a character in Halldórs Laxness famous novel "Under the glacier", a woman who baked outrageously big cakes.
I decided to carve 8 Hnallþórur in honor of Icelandic women who have over the centuries strived to cook and bake for family and guests, always putting other first and then apologizing for their work.
Hnallþórur for all the Icelandic national costumes 8 in total, who is going to be your favorite?
http://bibi.is/wp-content/uploads/2017/03/paskar1.jpg
2103
2016
Ingibjörg Helga Ágústsdóttir
http://bibi.is/wp-content/uploads/2016/11/flur.png
Ingibjörg Helga Ágústsdóttir
2017-03-16 11:17:43
2017-03-16 11:31:01
Hnallþóruveisla - a feast